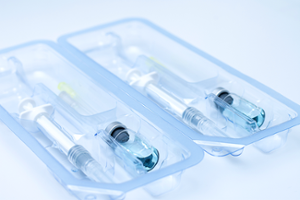 Taking the steps to ensure patient safety across all stages of the medical supply chain must remain top priority - particularly when it comes assurance of supply for your packaging materials.
Packaging plays an integral part in protecting essential lifesaving products from contamination as well as physical and environmental damage with the priority of maintaining package integrity until delivery at the point of care. This requirement became particularly apparent during the global pandemic, which highlighted the role plastics packaging plays in protecting products from contamination - particularly for medical devices, medications, and other healthcare products.
Materials such as PETG used in thermoformed medical, pharmaceutical and healthcare packaging applications play an essential part in the greater medical supply chain to protect these lifesaving products. The critical function of these materials necessitates a dependable, reliable and secure supply chain for these packaging materials. However, recent disruptions and challenges have called into question the resiliency and reliability of the PETG supply chain in the US. With the majority medical packaging & medical device applications dependent on consistent supply of PETG materials, the risk associated with a single-source supply presents a significant concern.
Now is the time to mitigate that risk and secure the safety and reliability of your PETG supply. Impact Plastics' PETG solutions offer the same technical specifications, safety and regulatory certifications, and product consistency required for your most critical PETG medical, pharmaceutical, and healthcare packaging applications - while delivering additional benefits! Continue reading to explore the benefits of PETG from Impact Plastics.
---
1. Supply Chain Risk Mitigation
To offer an additional source of PETG resin and rollstock supply to the medical, pharmaceutical and healthcare rigid packaging market, Impact Plastics has partnered with Selenis Specialty Polymer Solutions. With locations in the US, Italy and Portugal, this organization specializes in the production of specialty polyester solutions. This new source of PETG resin supply mitigates risk of supply chain disruptions and long lead times, while providing assurance of supply for packaging lifesaving products.
The critical function of these materials combined with the limited flexibility of alternatives necessitates a dependable, reliable and stable supply chain for these vital packaging materials.
2. Advanced Production Technology
PETG from Impact Plastics is produced with advanced technology both on the resin production side and the rollstock manufacturing side to offer the consistency and quality required for medical packaging applications. In addition, Selenis has established a brand new facility with state-of-the art resin production capabilities located in the US.
Furthermore, Selenis PETG resin is copolymerized using PTA, which is a newer technology with increased industry use and availability. In comparison, alternative solutions are produced using a resin copolymerized using DMT, which has decreased in consumption as the industry shifts towards newer technologies. Additional feedstock advantages of using a resin copolymerized with PTA vs DMT include, increased cost efficiencies and a well-secured supply due to high existing and future production capacity.
3. Regulatory Compliance
Materials such as PETG used in thermoformed medical, pharmaceutical and healthcare packaging applications represent the first line of defense against the transfer of dangerous bacteria and pathogens, and therefore play a critical part in the supply chain for essential medical equipment, medications, and devices. As such, these materials must stand up to rigorous qualification and validation procedures to ensure that they meet stringent safety, quality, and performance specifications with the ultimate goal of minimizing risk downstream.
Impact Plastics' PETG solutions offer the same regulatory requirements as current solutions to streamline validation for your most critical PETG medical, pharmaceutical, and healthcare packaging applications and meet the following certifications:
EU NR 10/2011

US FDA 21CFR 177.1315 [b] [1]

USP Class VI & Cytotoxicity per ISO 10993-5:2009
4. Second Source
With the US market for medical-grade PETG resin primarily single-sourced, OEM medical companies and medical thermoformers are left with minimal options when it comes to their material sourcing. Once materials are qualified and validated for a particular application, materials cannot be substituted or changed out. When access to these materials limited as a result of long lead times or supply disruptions, this presents a significant production risk, making validation of a second-source of supply key for protecting your customers from disruptions in the upstream supply chain. Validating PETG from Impact as a second source will help both converters and medical OEMs gain assurance of supply and a new confidence that PETG packaging materials will be available for their life saving products to reach doctors, hospitals, and ultimately patients.
In addition, the lack of alternatives and inability to substitute validated products, combined with the limited suppliers of extruded PETG sheet & rollstock for medical applications, means medical thermoforming companies and OEM medical device manufacturers have little power when it comes to market economics. With more options, you can take back control of your PETG material sourcing, all while mitigating supply chain risk and securing your access to critical materials by validating a second-source.
5. Material Characteristics
The New PETG from Impact Plastics was designed to meet all of the same technical and quality standards of current solutions to streamline process validation including:

Outstanding Clarity

Excellent low temperature operating use

High toughness and impact resistance

Compatible with sterilization techniques including: EtO, Gamma & Ebeam

Intrinsic Viscosity (IV) control capabilities for improved process consistency

Low shrink

High stiffness
---
Want to learn more? Download the Material Comparison Data Sheet to see how PETG from Impact Plastics compares to your current materials: