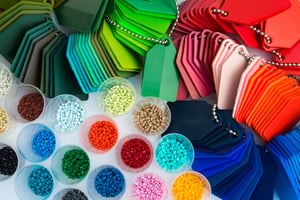 In critical applications, consistency is key – not only for the material and performance, but for the color. With Impact Plastics' industry leading quality control systems, color is monitored and measured not only during the extrusion run, but compared run-to-run, to ensure consistency throughout the project and among repeat orders. In addition, our relationships with color suppliers allow us to color match to a PMS number or a target, to help our customers achieve the exact aesthetic vision for their application. Continue reading to learn more about our color monitoring control systems and capabilities.
Imagine receiving an order of custom color sheet only to discover that the color varies and doesn't match from part to part. Not only is this frustrating, but for critical applications in the food and medical industry, it can raise alarm bells that no-change orders have been violated.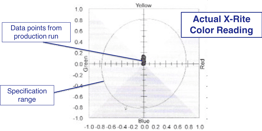 At Impact Plastics, to ensure color consistency throughout the extrusion run, and from run-to-run, we use what is called a Portable Sphere Spectrophotometer from X-Rite. Spectrophotometers are color measurement devices used to capture and evaluate colors. The use of a spectrophotometer allows members throughout the supply chain to specify and communicate color that can be accurately monitored during the production run for color control purposes. These devices can measure a range of materials from liquids, to paper, metal and fabrics, and plastics. When the spectrophotometer takes a reading, it produces a spectral reflectance curve, commonly known as the color's "fingerprint," which can then be used to monitor color consistency.
There are three primary types of spectrophotometers. At Impact Plastics, we use what is called a "sphere" spectrophotometer. These spherical instruments can measure light reflected at all angles to calculate color measurements that closely match what a human eye would see.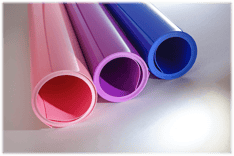 At Impact Plastics we have the capability to color match and produce custom plastic sheet so that our customers can achieve the desired aesthetic vision for their application. At the beginning of the color matching process, a common way to identify the desired color is through a Pantone Matching System (PMS) number. The PMS system is a standardized reproduction system that allows different manufactures to refer to a standard target for a specific color. If a PMS number is not known, our color suppliers can identify a match using just a target. Custom color matching can be completed for all of the thermoplastic resin materials that Impact Plastics manufactures with options including:
Opaque Colors

Pearl

Iridescent

Glitter

Clear tints

Metallic
---
For more information on our performance additive capabilities or to learn more about our material solutions contact our team today!