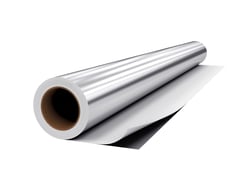 The process of extrusion lamination can be used to add additional features and benefits, such as barrier properties or decorative components, to traditional thermoplastic resins. At Impact Plastics, our proprietary in-line extrusion lamination system allows us to laminate specialty films onto any of the thermoplastic sheet substrates we produce on a custom level, providing our customers with a sheet that meets the exact performance and aesthetic requirements of their application. Continue reading to learn more about our extrusion lamination capabilities:
Extrusion lamination is a converting process that allows two different materials to be combined in-line to achieve a multi-layer sheet structure. During the extrusion lamination process, the selected polymer is extruded through the die in the form of a sheet and acts as the substrate for the film to be laminated onto. When the sheet and the film meet, the sheet still carries a good amount of heat, which allows the film to bond to the surface of the sheet via heat transfer. To ensure the substrate and film bond together, the film often carries what is known as a tie layer, which acts as a compatible layer that allows the substrate and film to bond together. This tie-layer is key to ensure that the film does not de-laminate over time.
At Impact Plastics, we use our proprietary in-line extrusion lamination system to help our customers achieve specific oxygen and moisture barrier requirements or to laminate pattern films for display applications. Below are some of the films available:
EVOH:
Ethylene vinyl alcohol (EVOH) is a copolymer of ethylene and vinyl alcohol. This material is commonly used as an oxygen barrier for food packaging applications.This material is superior to any other plastics when it comes to keeping air out and flavors in, is transparent, weather resistant, oil and solvent resistant, flexible, moldable, recyclable and printable. Because of the cost of EVOH, it is most often used in a thin layer that is either coextruded or laminated onto other materials.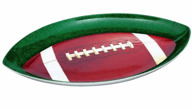 Decorative Films:
Decorative films can be used to add a pattern or finish to the material for a specific aesthetic look. Customer have requested films with a wood grain look or printed with a specialty design for holiday applications or promotional items.
Mylar Film:
Mylar® is a Dupont® developed and manufactured oriented, multi-use versatile PET film that can be manufactured in a range of different styles, finishes and thicknesses. This material does not become brittle with age and is dimensionally stable, chemically resistant, moisture resistant, and offers color consistency and good clarity. This material will not yellow or tear and is suitable for temperatures ranging from -100 – 300° F.
Acrylic Film: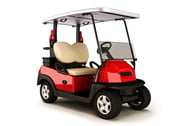 This weatherable film is an impact modified and UV stabilized acrylic for both interior and exterior applications that can be laminated to ABS and HIPS sheet or rollstock. This film is UV resistant, abrasion and chemical resistant, fungus and mildew resistant, and paintable, all while delivering superior color depth, surface uniformity and durability. The weatherability of this film when applied to our extruded ABS or HIPS, makes it ideal for applications such as shower enclosures, interior and exterior automotive parts, marine and boating exterior parts, recreational vehicle components, and various other outdoor applications.
---
Interested in a film that didn't make the list? Contact our team today to discuss the possibilities for your application!