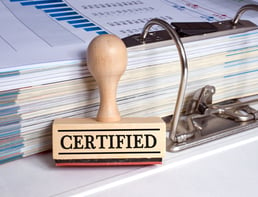 Impact Plastics is proud to announce its achievement of Food Safety System Certification (FSSC 22000) for its Impact South facility located in Hamlet, NC. "FSSC 22000 Certification is a clear reflection of Impact Plastics' focus and commitment to the food packaging market and to drive continuous improvement in food packaging material for a safe food supply chain," said Jimmy Shah, Food Safety Team Lead for Impact Plastics. Keep reading to learn more about FSSC 22000.
What is FSSC 22000 certification?
Food Safety Systems Certification (FSSC 22000) is an international certification scheme that is designed for managing food safety and quality requirements for the entire food supply chain from raw food material including perishable and nonperishable ingredients, to food packaging material, to transport of food product. Achievement of the FSSC 22000 certification demonstrates a company has a very robust and effective Food Safety Management System (FSMS) to meet the rules and requirements of food regulators, business clients and the end users.
Who developed FSSC 22000?
FSSC 22000 is a global standard certification system based on existing ISO standards and developed by broad consultation work between British Standard Institute (BSI), Global Food Safety Initiative of Foundation of CIES, and Confederation of the Food and Drink Industries of the European Union (CIAA) that is now managed by the independent foundation called FSSC 22000. FSSC 22000 is now fully recognized by Global Food Safety Initiative (GFSI) to meet its international requirements in the food sector.
Is FSSC a part of ISO?
FSSC scheme consists of three parts: 1) ISO 22000, 2) sector specific pre-requisite program (PRP) and 3) specific FSSC 22000 requirements. Let's discuss each in more detail.
ISO 22000 provides a common framework across the supply chain to manage requirements, internal and external communications, and a continuous improvement plan for the program.
Pre Requisite Program or PRP's has the biggest focus in this certification program. The FSSC program is designed for more than 10 different categories or sectors where each has its own set rules and requirements. These rules and requirements are based on PAS 220 (Prerequisite programs on food safety for food manufacturing) and include requirements around construction and layout of buildings, layout of premises workspace, and utilities – air, water, energy, waste disposal, equipment suitability, cleaning and maintenance, to name a few.
Along with quality module based of ISO 9001, FSSC 22000 has its own set of requirements to ensure consistency, integrity, and to manage governance and management of the scheme.
Why FSSC 22000?
FSSC 22000 is built on a strong base made with ISO, PRP, and FSSC requirements that also includes HACCP program to promote a proactive food chain approach by food businesses when developing, implementing and improving the effectiveness and efficiency of a food safety management system (FSMS). Not only does it help in FSMS but it also takes care of the risk for upstream and downstream including supplier, transport, utilities and preventive maintenance to run the business effectively and safely. FSSC 22000 increases transparency throughout the food supply chain and is globally recognized by Global Food Safety Initiative (GFSI). It allows an easy integration of food safety and food quality management with other management systems such as environmental management, sustainability, health and safety for large, medium and/or less developed organizations to implement a robust FSMS that is accepted worldwide: "The value added to an organization with a certified food safety system lies in the efforts made by the organization to maintain that system and its commitment to continuously improve its performance."
---
For more information on our quality certifications visit our website or contact our team today!