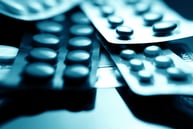 In an effort to consistently meet the requirements of our customers applications, Impact Plastics recently set out on a new project to have our 1110E HDPE sheet registered with the FDA under a DMF number. This particular project came about when a thermoforming customer servicing a large pharmaceutical company required that our sheet formulation be approved in order for the opportunity to move forward.
Continue reading to learn more about achieving a DMF Certificate for packaging materials.
A DMF, or Drug Master File, is a document most often prepared by a pharmaceutical manufacturer, or packaging manufacturer, and submitted to the appropriate regulatory authority in the intended drug market. While there is no regulatory requirement to file a DMF, the document provides said regulatory authority with confidential and detailed information about facilities, processes, or articles used in the manufacturing, processing, packaging, and storing of one or more human drugs.
Typically, a drug master file is filed when two or more firms work in partnership on developing or manufacturing a drug product. The DMF filing allows a firm to protect its intellectual property from its partner while complying with regulatory requirements for disclosure of processing details.
In the United States, the regulatory authority that DMFs are submitted to is the Food and Drug Administration. The main objective of the DMF is to support regulatory requirements and to prove the quality, safety and efficacy of the medicinal product for obtaining an Investigational New Drug Application (IND), a New Drug Application (NDA), as an Abbreviated New Drug Application (ANDA), another DMF, or an Export Application.
In United States there are 5 types of drug master file:
Type I Manufacturing Site, Facilities, Operating Procedures and Personnel
Type II Drug Substance, Drug Substance Intermediate, and Material Used in Their Preparation, or Drug Product
Type III Packaging Material
Type IV Excipient, Colorant, Flavor, Essence, or Material Used in Their Preparation
Type V FDA Accepted Reference Information

For the purposes of this application, the DMF for 1110E HDPE sheet is classified as Type III Packaging Material. Once a company references the DMF number specific to a particular product it will be reviewed by FDA in support of a premarket submission while authorizing your clients to reference specific sections of your DMF or the entire contents.
---
Learn more about our additional polyethylene sheet products here!

---
As mentioned earlier, a drug master file is a submission of information to the U.S. Food and Drug Administration (FDA) by a person (the Drug Master File Holder) who intends it to be used for one of the following purposes:
1) To permit the holder to incorporate the information by reference when the holder submits an investigational new drug application under part 312 or submits an application or an abbreviated application or an amendment or supplement to them under this part.
2) To permit the holder to authorize other persons to rely on the information to support a submission to FDA without the holder having to disclose the information to the person.
In this context, a DMF is useful as a mechanism to market your products and services to the U.S. Drug Industry.
To learn more about Impact 1110E HDPE sheet and our other DMF registered materials, click on the button below to download your data sheets today: