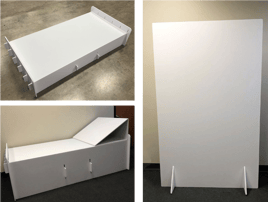 At Impact Plastics, the safety and wellbeing of our employees, customers, suppliers and greater communities will always be top priority during these uncertain times. Our thoughts and prayers go out to those affected by this virus and their families, as well as to the healthcare and other essential business workers and their families making sacrifices every day in the fight against the COVID-19 pandemic.
While these are without a doubt trying and ambiguous times for our nation and our world, it is important for us to realize that we are all in this together, and to do our part to help aid in the fight against the virus. As a member of the plastics industry, I have been in-tune to the many articles featured in industry publications regarding the ways in which organizations have been stepping up and pivoting operations to contribute to the fight against COVID-19. I have never felt more proud to be a part of this industry and proud to work for a company so dedicated to being a part of the solution.
Deemed an essential business due to our involvement in the food, drug and medical supply chain, Impact Plastics has remained open and operations have continued at both manufacturing locations to ensure that Americans have access to their items of most critical need during this COVID-19 outbreak.
Our products are used in the packaging and production of a wide range of critical life-sustaining surgical, procedure and therapy areas including respiratory, diagnostics, drug delivery, blood management, vascular, cardiology, diabetes, wound care, stem cell, oncology, orthopedics, and ophthalmic. We are proud of the work that we do, and we are extremely proud of our dedicated team.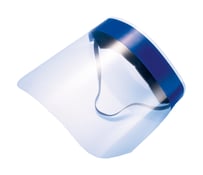 Impact Plastics has also found a home for our materials in products going directly to healthcare professionals working on the front-lines in the fight against the COVID-19 pandemic. We first had the inspiration that our materials could be used for this purpose, when, after seeing a picture of a face shield, Jimmy Shah, Senior R&D Engineer at Impact Plastics - Hamlet, NC, took piece of clear polypropylene sheet stashed away from a previous production run, and fastened it over to his face as a protective shield with a rubber band.
Subsequently, face shield production seemed to take off throughout the industry, with many of our own customers and market peers using the materials on-hand for face shield fabrication. Since then, Impact Plastics' custom-extruded medical-grade Clear PP and optically clear styrene blend products have been produced for use in the fabrication of face shields that have been distributed directly to healthcare workers and facilities as valuable and essential personal protective equipment (PPE).
Additionally, Impact Plastics has collaborated with long-time customer and partner, The Gilman Brothers Company, to produce material used to construct patient beds and partitions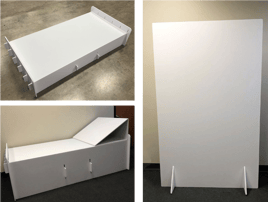 for use in temporary hospitals being set up across the country to treat COVID-19 patients. To produce the beds, Impact Plastics' medical-grade high impact polystyrene rollstock is laminated to a foamboard product manufactured by the Gilman Brothers, the Infinity® Styrene Faced Foamboard. The boards are then cut into shapes that are fit together to construct the temporary hospital beds. The result is a moisture resistant and sanitizable surface for a bed that can be assembled in minutes without tools, and can hold from 400 - 600 lbs depending on configuration. Impact Plastics has also provided Clear HIPS to Gilman Brothers for the fabrication of face shields.
This innovation is a true testament to American innovation and ingenuity, as Gilman's core business is traditionally focused as a manufacturer of foamboard for graphic arts and printing applications for a variety of finished art, advertisement and merchandising signage. Looking for a way to keep all of their dedicated staff employed, Gilman took the initiative to pivot operations and create an innovative solution for their materials, "As a team we worked together to pivot our business direction given the unchartered waters we all face. The beds, partitions and soon to be other essential needs will be rolled out over coming days. To be a part of a group of people to help save lives and jobs is comforting to know the bigger purpose we all can serve when working together," said Bill VanHorn, Director of Sales for the Gilman Brothers Company.
More about the company's journey to developing these temporary hospital beds is included in this coverage by NBC Connecticut, and footage of the beds being assembled can be seen in this moving video from the National Guard:
---
In a time of so much uncertainty, we believe that the good news is worth celebrating. These are certainly unprecedented times, but it is amazing what can be accomplished as a result of true innovation and the entrepreneurial spirit. We at Impact Plastics are honored to be able to do our part.