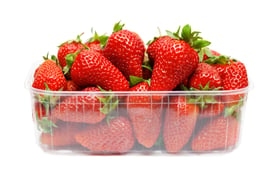 Impact Plastics is excited to announce the addition of state-of-the-art PET & PETG extrusion capabilities to our portfolio. Beginning in March, Impact Plastics will now be able to offer precision PET & PETG solutions for barrier & non-barrier packaging applications, making us your one-stop shop for all custom-developed food, medical and consumer goods packaging solutions for applications ranging from medical PETG/PET trays, to foodservice cups, to clamshells and trays for consumer goods applications - and much, much more!

Continue reading for more information about Impact Plastics' PET & PETG extrusion capabilities and get on the wait-list for our custom developed PET packaging solutions:
---
Impact Plastics' project development team is equipped with decades of industry knowledge and experience in PET & PETG extrusion and thermoforming that, when used alongside the latest extrusion and quality monitoring technology, results in a sustainable material solution optimized to meet all packaging requirements for enhanced barrier, thermal and mechanical properties:
Rollstock Configurations:

The addition of our new PET & PETG extrusion capabilities will enable Impact Plastics to produce monolayer, multi-layer coextruded & extrusion laminated custom rollstock configurations. Multilayer coextruded structures are available in up to three-layer configurations, such as GAG (PETG/APET/PETG) rollstock for medical applications, while extrusion laminated solutions are available for barrier structures (such as PET/E/PE) and non-barrier with easy-peel or weld seal options.

Gauge & Width: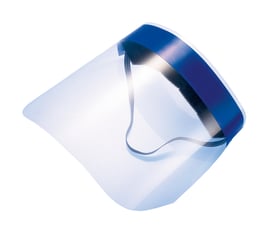 Our state-of-the-art PET/PETG extrusion line has precision gauge capabilities ranging from 0.010" to 0.060" and can accommodate widths of 15" to 65".

Customization Options:

Impact offers various custom color and tint options, as well as additive selections including anti-fog, anti-stat, anti-scratch, and oxygen scavengers for clear or custom color material solutions.

Barrier Capabilities:

PET has great oxygen barrier properties making it a suitable material solution for medium barrier food and medical packaging applications. Barrier properties can be further enhanced through the use of our extrusion thermal lamination processes to incorporate materials such as EVOH to provide a high barrier packaging solution.
Intrinsic Viscosity Quality Monitoring Capabilities: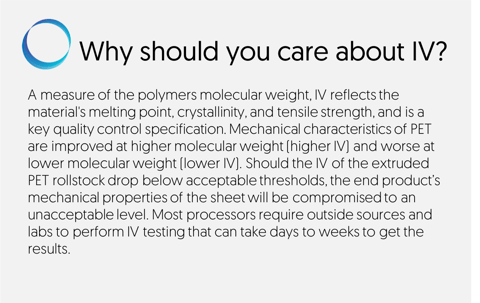 Careful control of the Intrinsic Viscosity (IV) of PET is essential to maintaining quality and material processing characteristics. Impact Plastics' state of the art PET extrusion line has the ability to monitor and control the relative level of the material IV in-process and in real-time. This real-time IV monitoring identifies any deviation in the processing conditions, and is able to take corrective action to address those conditions to maintain consistent quality for an efficient production run.

Regrind Integration:
Impact Plastics offers customer regrind integration programs and has extensive PET regrind integration capabilities allowing for up 100% recycled content for RPET packaging applications. Using our real-time IV monitoring capabilities, Impact Plastics' production team can ensure a specified level of IV is maintained, resulting in a consistent product for thermoforming processes. Life cycle studies of PET's energy use and greenhouse gas emissions have consistently shown that PET offers an outstanding eco-profile among commercially available packaging solutions, and the safety of RPET solutions have been repeatedly examined using extensive research studies, scientific test studies, and regulatory approvals for its use and reuse into applications using RIC #1.
---
Interested in learning more about our PET solutions for your custom food, medical, or consumer goods packaging project? Reach out to our team today to get the process started!