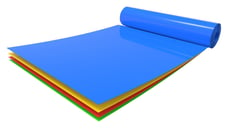 Impact Plastics is adding new production capabilities to our current portfolio of services! Adding to our offering of additive integration capabilities, Impact Plastics is adding a Roller Coater with the capability to provide a controlled and consistent amount of specialty additives to the surface of the plastic sheet.
Building upon our current additive integration capabilities, the addition of this new Roller Coater machine will now allow us to offer to offer our customers pre-coated materials for performance additives such as silicone release coatings, anti-fog coatings or anti-static coatings onto one or both sides of the extruded plastic sheet. This machine will apply a "streak free" application of the additive that is consistent and controllable in levels so thin that the coating won't even be visible to the end user. This machine can be used on rollstock up to 60" wide and with various polymers.
---
Interested in a custom formulation using a specialty additive? Contact our team today!