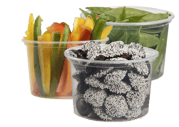 Impact Plastics is excited to announce a new product to our polypropylene sheet portfolio! While typical impact copolymer PP resins have a milky or hazy appearance, 903D PP sheet offers drastically improved clarity and aesthetics for thermoformed products without sacrificing performance properties.
Continue reading to learn more about 903D PP and download the technical data sheet for this material!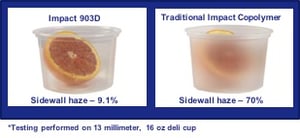 A first-of-its-kind clarified impact copolymer PP resin, 903D PP sheet is setting a new standard for clarity in impact copolymer polypropylene. Typical impact copolymer PP resins have a milky or hazy appearance, and for this reason thermoformed parts are often seen in an opaque color. 903D PP sheet, however, offers drastically improved haze and clarity in comparison.
In addition to improved aesthetics, 903D PP sheet offers the ultimate balance of properties - combining the stiffness characteristic of a homopolymer, the toughness of an impact copolymer, and the clarity of a random copolymer - all in one high efficiency polypropylene sheet.
This material's unique set of properties make 903D polypropylene sheet suitable for a range of thermoforming applications including:
Refrigerated food trays and deli cups
Cold blended drinks and ice cream cups
Frozen food containers, with ductile breaks up to -20 C
Microwavable and re-heatable food packaging
Cold temperature high pressure pasteurization (HPP) applications
For more information about this product, click on the image below and download our 903D PP Data sheet today!