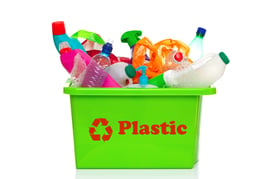 *This post was updated on 12/8/2020
As sustainability concerns continue to remain at the forefront of packaging discussions, using a recyclable and environmentally conscious packaging material is an essential requirement for many converters and brand owners. However, selecting a material that is recyclable is only half of the battle. While certain plastics materials technically recyclable, research has shown that infrastructure supporting the recycling of certain materials is not widely available to a small portion of the population. So steps to ensure that you are choosing a material that consumers can actively recycle for diversion into other applications is an important piece of the puzzle.
To give insight to recycling rates of different plastic materials, since 2009 the plastics division of the American Chemistry Council has commissioned a study on recycling rates in the US. Continue reading to learn more about the findings of the 2018 National Post-Consumer Non-Bottle Rigid Plastic Recycling Report!
---
The 2018 National Post-Consumer Non-Bottle Rigid Plastic Recycling Report, released in August of 2020, is the 12th annal report focused on reporting pounds of post-consumer non-bottle rigid plastic, for both packaging and non-packaging, recovered for recycling in the US.
Research for this report was conducted by Moore Recycling Associates on behalf of the plastics division of the American Chemistry Council. Data collected for this study is compiled through a voluntary annual survey that also gathers data on bottles, films and other plastics. Data specific to non-bottle rigid plastic was gathered from mixed rigid plastic and non-bottle material segregated by resin and product type.
For the 2018 report, a minimum of 1.3 billion pounds of post-consumer non-bottle rigid plastic were reported as recovered. Because participation in this survey is voluntary, data in this report is not a complete representation of the total market, therefore, values reported in the study represent the minimum amount of plastic recovered and sold in the market.
---
To learn more about the sustainability of PP, check out our blog post: Improve the Sustainability of your Packaging with Polypropylene
---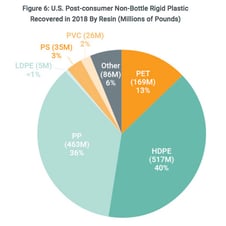 The 2015 edition reported that polypropylene comprised the largest proportion of the non-bottle rigid plastic recycled for this year. As of the 2018 report, PP was reported as the second-highest recycled material at 36%, second to HDPE at 40%. The majority of the materials collected were PP or HDPE, because these materials can be handled more cost effectively and often do not require washing. These numbers are significant because it shows that thermoformed PP parts are not just recyclable in theory - they are also recyclable in practice..
The findings of this study can serve to encourage converters and brand owners that by choosing PP their sustainability initiatives will go full-circle, and won't stop at the landfill. To further support this, the "2015-2016 Centralized Study on Availability of Plastic Recycling Study" reported that the majority of the US population has access to recycling programs that accept PP containers. Recycled polypropylene is currently being reused in a variety of applications such as home storage, composite lumber, flower pots and battery cases.
---
Looking improve the sustainability cred of your plastic packaging? Get in touch with our team to learn more about how you can use polypropylene sheet for your next application.