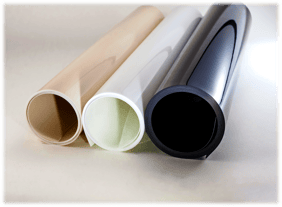 Calcium Carbonate (CaCO3) is one of the most widely used mineral fillers in the plastics industry, and its use in rigid packaging has increased significantly over the years. Once thought of simply as a resin extender, the addition of calcium carbonate in plastics has been shown to contribute to increased performance, improved processing, and improved sustainability of the finished part.
Check out five great reasons why you should consider using calcium carbonate filled polypropylene sheet for your next project:

---
Improved Performance:

The addition of calcium carbonate to polypropylene sheet has been shown to improve the performance of the plastic across the board. At just an 18% loading, studies performed by Heritage Plastics showed that the calcium carbonate improved several key properties. Improvements in heat deflection temperature, impact strength, stiffness, barrier properties, and print quality were all observed. In fact, even greater gains were realized at higher loading levels. Calcium carbonate is currently being used in commercial applications at up to a 40% fill rate all while improving part function.
Improved Processing:

The use of calcium carbonate in polypropylene sheet can help streamline thermoforming applications by allowing the plastic to heat up and cool down faster. The improved thermal conductivity allows for significant energy savings through improved productivity, higher outputs, and faster conversion rates. In addition, faster cooling helps to reduce shrinkage and results in less warping, allowing for greater predictability in the finished part.
Economic Advantages:



The resin market can be volatile, and integrating calcium carbonate can protect consumers against unpredictable price fluctuations. The displacement of resin allows for significant raw material cost savings by replacing up to 40% of plastic with price-stable calcium carbonate. In addition, the improved thermal conductivity, higher output rates and improved conversion rates result in increased operating efficiencies, all of which positively impact the bottom line.
Sustainability:

For all of the benefits that plastics afford us in modern society, it comes at a cost and studies have shown that consumers and brand owners are becoming increasingly more concerned with the sustainability of their packaging. Studies conducted by Heritage Plastics have shown that using a 40% loaded calcium carbonate filled polypropylene can generate a Green House Gas savings of approximately 23% - and this is before taking into consideration the increased productivity mentioned.
FDA Approved:

Calcium carbonate as a plastics additive is 100% FDA approved, allowing for versatility among applications and use in critical applications in the food packaging foodservice packaging and medical packaging markets.
---

Considering mineral filled polypropylene for your next project? Check out our performance additive capabilities!