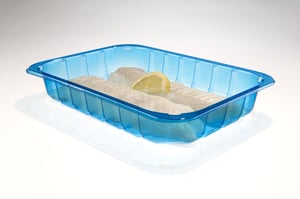 When customers look to make the from one material to another, a common concern that we see is regarding price. "Materials such as PET are so cost effective and they get the job done, so do all the benefits of this material that we read in your "10 Reasons to Use Polypropylene for Your Next Food Packaging Project" really outweigh the increase in price?"
---
My answer to this? Price is just a number and cannot be taken at face value. Economic, raw material, and processing variables all ultimately affect price. So why not consider how the characteristics of the polymer can affect price? In the case of polypropylene, there are two very important factors related to the physical properties of the polymer that affect the overall price of the material: density and weight.
Polypropylene has the lowest density of all the polymers. This results in a 30% decrease in density from PET and a 13% density reduction from HIPS. The lower density directly correlates to an increased yield so you get more linear feed of raw material for the same weight. So put simply, by making the switch from polymers such as PET, HIPS or PVC, to polypropylene sheet, you get more parts from the same amount of material. This difference in density is so significant that when prices are adjusted for density, PP becomes the lowest cost polymer.

PP is also the lightest polymer. Because of the lightweight nature of this material, you can do more with less plastic, resulting in lighter, thinner, stronger parts that can be used in a wide variety of applications. The light weight nature of this material also results in a more sustainable solution, resulting in less solid waste by weight than any other plastic.
To sweeten the deal even further, now with Impact's Clarified Polypropylene solutions, you can take advantage of these efficiencies without compromising visual appeal. Sound interesting? Contact our team today to get started on making the transition to polypropylene.