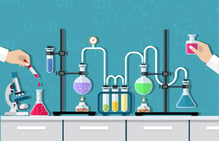 So you've narrowed down what material you need thanks to our "Learn More About your Plastic Sheet" series - now its time to download a data sheet and take a look at the performance attributes of the materials we carry. But if you're new to the industry, or don't work in a technical role, the information stated on material data sheets can leave you more confused than when you started.
If you've ever felt this way after reviewing a material data sheet, then this next Impact Plastics Blog series focused on "Understanding your Data Sheet" is for you. In this next blog series we will explore ASTM tests commonly found on material data sheets for thermoplastic resins. Our last post discussed density and specific gravity – now we move onto another commonly encountered specification – Heat Deflection Temperature (HDT). Continue reading to learn more!

The American Society for Testing and Materials (ASTM) is an organization that defines and sets standards to ensure good quality and workmanship. Over 12,000 ASTM standards operate globally, including tests specific to plastics, to help consumers have confidence that the products they purchase will perform as expected.
One of the ASTM test methods for plastic commonly seen on data sheets is a test for Heat Deflection Temperature (HDT). This test is often seen with the designation ASTM D648. The HDT of a given material is defined as the temperature at which a standard test bar deflects a specific distance under load and is often used to determine short-term heat resistance. This test helps to distinguish between materials that are able to sustain light loads at high temperatures and those that lose rigidity over a narrow temperature range.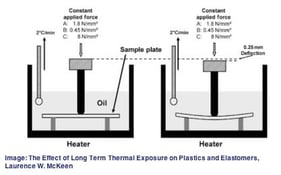 To conduct this test per ASTM D648 guidelines, the test specimen bars are placed under the deflection measuring device. A load of either 0.45 MPa or 1.80 MPa is placed on each specimen and then lowered into a silicone oil bath where the temperature is raised at integrals of 2° C per minute until the specimens are observed to deflect 0.25mm.
The results of this test can be a useful measurement of relative service temperature for a material when used in load-bearing parts. However, the HDT test is a short-term test and other factors such as the time of exposure to elevated temperatures, the rate of temperature increase, and part geometry all affect the overall performance of the material under heat.
---
For more information on our products or for help choosing the right material for your project, contact our team to schedule your free material consultation!