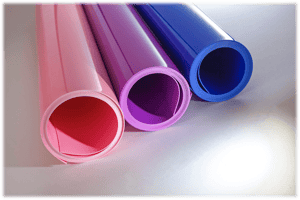 Working in the plastic sheet extrusion industry gives you insight into the many ways plastic is used in modern society. But to someone who does not work in the industry, or is new to the industry, all plastics can look the same. However, not all plastics are created equal, and the term 'plastics' encompasses many different polymers all with different characteristics and typical uses. At Impact Plastics, we extrude a mix of commodity & specialty thermoplastic resins for supply into various market verticals. New to plastics and don't know where to start? Read on for a breakdown of the polymers that Impact carries and their typical uses.
---
Today, manufacturers follow a coding system developed by the Plastics Industry Association (formerly SPI), and place a resin identification code on each thermoformed product, typically at the bottom, to help classify the material for recycling purposes. Continue reading to learn more about the materials that Impact Plastics extrudes:


PP is a very versatile material that has been rising in popularity due to its excellent chemical resistance, low density and lightweight nature, and sustainability attributes. A semi-crystalline polymer, polypropylene sheet is hazy in its natural state, but can be clarified through the use of additives and special processing conditions.

Because of the light weight and low density characteristics of this polymer, customers can experience up to a 30% increase in part yield in comparison to other materials typically used in packaging applications. PP also has excellent temperature resistance and moisture barrier properties, making it the perfect candidate for all types of food applications – from soups, to baked goods, to freezer and microwave applications. In addition to these characteristics, this material is durable and flexible, meaning that it withstands daily wear and tear and is resistant to cracking, even when flexed, making it excellent for applications with a living hinge. Specialty polypropylene grades with increased stiffness are available for applications that require a "snap" such as yogurt multi-pack applications.
PP is available in three grades - homopolymer, random copolymer, and block copolymer (or impact copolymer) – each with a unique set of characteristics making it the ideal material for customization. For recycling purposes, PP can be identified by the resin ID code '5.' Impact Plastics customers are currently using polypropylene and UltraClear polypropylene sheet in applications in the food packaging, consumer goods packaging, medical packaging and OEM medical device markets.
Polyethylene (PE)



PE is available in four different grades – High Density Polyethylene (HDPE), Low Density Polyethylene (LDPE), Linear Low Density Polyethylene (LLDPE) and High Molecular Weight Polyethylene.
HDPE is ideal for applications that require excellent impact resistance, high tensile strength, excellent moisture barrier properties and chemical resistance – however this material is not suitable for applications that require an oxygen or CO2 barrier. This material is more suitable for low temperature applications. HDPE is also compatible with Tyvek and together they create a single recycling stream for the package.

Items commonly seen in HDPE include milk containers, soap & detergent bottles, shampoos & conditioners and bleaches and packaging. Impact Plastics customers are currently using HDPE for coating applications, sterile barrier applications for the medical device packaging market, and single use food packaging applications.
High Impact Polystyrene (HIPS)

HIPS is a very versatile and economical thermoplastic resin with excellent impact resistance. A type of polystyrene, this material is can be used in various consumer product applications and is marked with the resin ID code '6.' Because rigid polystyrene can be relatively brittle, HIPS has been modified to make the material more impact resistant. HIPS can withstand moderate heat, but is not recommended for high-heat applications such as microwave applications.

Impact customers currently use high impact polystyrene sheet in medical packaging and medical device applications such as sterile barrier trays, food packaging applications such as disposable to-go containers, and cosmetics packaging applications such as perfume gift sets. Impact also offers a Utility HIPS grade, which consists of recycled HIPS scrap from our customers processes, that can be used in a variety of non-FDA applications.
Acrylonitrile Butadiene Styrene (ABS)
Combine the strength and rigidity of acrylonitrile and styrene with the toughness of polybutadiene rubber and you get ABS - a thermoplastic amorphous polymer that is opaque in its natural state. ABS has excellent impact resistance and toughness and is ideal for applications where sturdiness, strength and stiffness is a requirement. ABS also exhibits a strong resistance to corrosive chemicals.
General purpose ABS is relatively low cost and is easy to machine and fabricate. This material is suitable for use in construction or utility applications and packaging. Impact also carries a specialty ABS sheet with a "Class A" surface that is currently being used in paint film lamination applications for the automotive and consumer appliance markets.
TPO plastic refers to a polymer blend that typically consists of a mix of different grades of polypropylene, polyethylene, and elastomer or rubber. This material has been designed to be tough and durable and withstand the sometimes harsh outdoor elements. Impact Plastics customers currently use TPO for applications in the automotive industry that must withstand thermal expansion and contraction as a result of temperature changes.
Polyethylene Terephthalate (PET)

If you've had a drink out of a plastic water bottle, you've used a PET bottle. PET is one of the most commonly used plastics and can be identified by the resin ID code '1.' This material is clear, tough, and has good gas and moisture barrier properties. For this reason, PET is the most commonly used plastic material for consumable bottled liquids, such as soft drinks and bottled water, condiments, and other food products.
PET is not advised for use in high heat applications as the plastic may leach into the food after undergoing high heat conditions such as the microwave, dishwasher, or even after leaving the package in the sun for an extended period of time. An extremely versatile material, PET and rPET sheet can be seen being used in a variety of rigid packaging applications from food and foodservice packaging, to medical packaging, to consumer packaging, and everything in between.
---
If you'e a novice to the world of plastics, there is certainly a lot to learn, and we hope this guide was helpful. To learn more about materials we extrude, contact our team today!